The services we offer to large companies
At the heart of digital transformation, large organisations are particularly affected by the risks arising from the digitalisation of their accounting systems. With data flows and vulnerabilities both multiplying fast, safeguarding financial resources is becoming a major challenge. For almost 20 years, Runview has been making its expertise in data mining available to large businesses to comprehensively analyse their accounting data and protect them against financial losses.
Large companies responding to the challenges
of
digital accounting systems
Check your company's accounting processing
With large businesses exhibiting sometimes complex and segmented organisational structures, effective procedures need to be in place. However, a lack of communication between different departments, a re-organisation, a change of ERP system, accounting handled by a shared services centre, or indeed the complexity of certain transactions can all result in failings that can themselves sometimes be difficult to detect.
Ensuring that in-house procedures run properly, including the procure-to-pay process, and working on their continuous improvement, are both therefore essential to maintain the quality of your accounting and protect your financial resources.
Improve your cash flow and P&L
The sheer volume of suppliers, orders and invoices involved, remote provision of accounting services, paperless systems and staff turnover are all factors likely to cause irregularities in accounts data that could in turn cause financial losses, such as invoices paid more than once, credit notes that are not used, or input VAT not claimed back.
Most of these irregularities are commonplace and handled by internal procedures, software or audits. However, a level of residual errors that can never be fully eliminated remains in the data, regardless of the organisations and information systems put in place.
Control over tax risks
For businesses, the importance of ensuring compliance with tax rules and regulations is undeniable, and this includes areas relating to VAT.
With the introduction of the file of accounting entries (the "FEC" produced for tax purposes to meet statutory requirements in France) and the standardisation of accounting data, tax inspections are becoming increasing automated. For large companies, producing an error-free file is not necessarily a straightforward matter, and companies can easily leave themselves open to the risk of fines or tax adjustments if their files of accounting entries are not compliant or contain irregularities.
To be best prepared for such inspections and identify areas where there is a risk the business could be left exposed (VAT mistakenly not charged or under charged, or wrongfully claimed back, etc.), preventive examination of the accounts from a tax perspective is becoming necessary.
Profit Recovery

, by Runview

Discover the technology, methodology and consultants that make us the leading partner for businesses seeking help in safeguarding their financial resources.
Various solutions


to meet your needs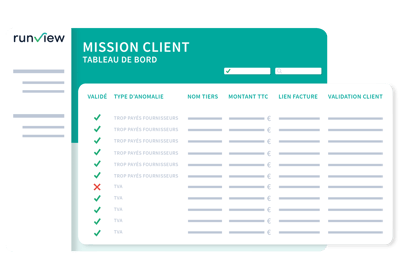 Recovery audit service
By shedding light on accounting irregularities resulting in financial losses through the use of data mining, a recovery audit ensures a comprehensive examination of your accounts data. With its leading-edge technology combined with the expertise of its consultants specialising in accounting and finance, Runview explores your accounting data over a number of years and identifies supplier over-payments and overlooked input VAT.
Supplementing the in-house checks you already have in place, this type of audit allows you to test the robustness of your procure-to-pay process, and correct any shortcomings. You are guaranteed to secure measurable savings, not only by recovering the amounts identified in the audit, but also by implementing best practice to avoid any repeat occurrences of these irregularities.
Examination of the file of accounting entries
Building on our expertise in data mining of accounts data acquired over more than 15 years, we have developed an online platform for audits of files of accounting entries. The files are examined through a series of automated checks, with no configuration required. The results of this analysis and details of irregularities found are available within a few minutes.
Runview allows you to automate this examination of your files of accounting entries entirely independently, to detect any aspects that might need to be checked. The solution consequently improves the reliability of your company's tax and accounting data.
Our
large corporate

clients

We work with major French and European corporations in all economic sectors, including power suppliers, telephone services, pharmaceuticals, and many others. More than half of our sixty or so clients are included in France's SBF 120 index. Take a look at our clients and read their testimonials.
Céline Lerissel, Tax Manager at Bayer
Although our internal audit function is very efficient, to err is human. It is therefore still useful to have an external firm's view of our accounting. We realised that it is a way of checking our processes and recovering cash quickly, without putting undue pressure on our teams. It is to our advantage to use Runview.
Audrey Coullet, Head of accounts payable at Novartis Pharma
I was surprised to note the audit did not necessarily mean extra workload for in-house staff. The various stages actually took a relatively short time from start to finish, the dialogue between us and Runview was very efficient, and not at all time-consuming for us.