Client-focused technology business
Behind the services we offer to businesses and accounting firms lies a unique engine, named Exaus®.
Exaus® is our proprietary technology, developed over the last 20 years, providing an in-depth analysis of massive volumes of accounting data, transforming it into useful information that it reports back to us. But what underpins our technology?
Data exploration to
protect your business
Data-mining algorithms and statistics-based searches
From the outset, our technology has been based on data-mining algorithms and statistics-based searches. Work on developing and improving our algorithms began in 2002. Our technology runs queries making use of:
Multi-entry analysis (supplier, data, journal, amount, etc.);
Mathematical search algorithms (exact/fuzzy matching, Levenshtein distance, value dispersion, classification, etc.);
Databases (key words, key suppliers, categorisation errors, etc.).
Our methodology and algorithms are perpetually improved by our R&D team on the basis of contributions made by our consultants working on assignments, and on client feedback.
Contribution to our technology from artificial intelligence
Artificial intelligence has been incorporated into our tried-and-tested methodology for a number of years. We use a machine learning technique called clustering to detect irregularities or unusual accounting data within data sets of varying degrees of homogeneity.
We have implemented a hybrid process combining supervised and unsupervised learning. As Runview has been in existence for a number of years, we have a substantial database of findings that have been examined previously by our consultants and ratified by our clients. The outcome of many years of completed audits, this raw material is an outstanding data set that has enabled the development of our algorithms and the delivery of highly-effective results.
After being trained on these data sets, our artificial intelligence algorithms now learn by themselves, completely independently. They are now able to detect irregularities that more conventional algorithms fail to report. AI also enables us to significantly reduce the rate of false positives among the potential errors our software identifies.
Online platform to examine files of accounting entries ("FEC")
The accounting data in the files being examined is processed by our in-house Exaus® software, and the findings are reported via our online files of accounting entries ("FEC") analysis platform.
Our clients do not need to undertake any configuration work, they simply upload their file onto our platform, and the examination of its contents starts automatically. The findings are available almost instantly. As example, the analysis of 100 FEC of less than 100,000 lines takes 20 minutes. In addition, the design and ease of use of our system mean it can be used with no training necessary.
Findings are first presented in summary form. From the summary, a click takes the user to the details of the irregularity found, in spreadsheet format. For a more thorough investigation, all movements for each entry can be viewed directly on the platform, so you can quickly grasp the nature of the irregularity.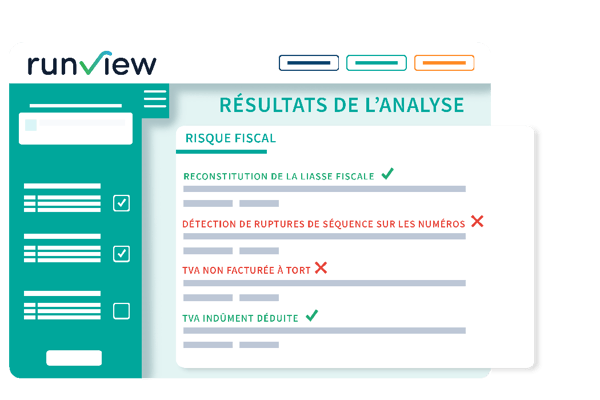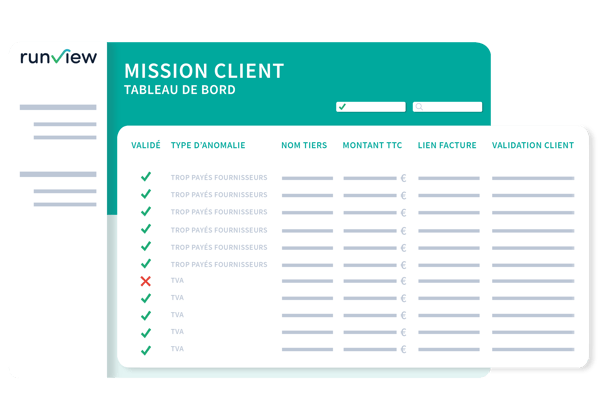 Exaus® Client Portal
As part of our supplier over-payments and overlooked input VAT audit service that we operate for our large corporate clients, we have developed a secure data interchange platform. When need be, our clients can upload their files of accounting data directly onto this platform (the statutory "FEC" files of accounting entries, BSEGs, other exports from any type of ERP system, etc.).
Our consultants use this secure client portal during our audits for real-time reporting of the audit findings. Apart from the data intrinsic to the accounting entry in question, supporting documentation is also attached to each irregularity found, for ease of reference for clients in resolving the situation.
In this way, the Exaus® client portal makes it possible for your staff to view and ratify the irregularities found online at any time, with all the information they need available on the portal, streamlining the audit processes. Monitoring of the audit is also improved, with KPI and progress charts provided. Our clients consequently find it easy to view the audit's findings.
Our avenues for future
development
We develop and fine-tune our systems within a continuous improvement process, working in conjunction with the major players in our markets, to anticipate our clients' problems and respond to them in the best possible way.
Our R&D teams are running various projects concerning our Exaus® proprietary technology. Besides the ongoing optimisation of our algorithms and their processing capacity, our teams are working on refining analysis performance and developing new artificial intelligence algorithms. We are also working permanently on improving the look-and-feel and the UX of our platform.
Data visualisation
We are making data visualisation a major avenue of development for our "FEC" file of accounting entries analysis software, with the aim of showing accounts data in the form of graphics and dashboards.
New import format
Our team is also considering the possibility of importing and analysing accounting files other than the yearly statutory file of accounting entries, such as CA3 VAT returns, EDI files, and so on.
Multiple-FEC analysis
We are also working on the design of a multiple-FEC analysis, serving to examine and compare more than one such file (for one or more companies) to discern any trends, anticipate future developments or to compare performances.